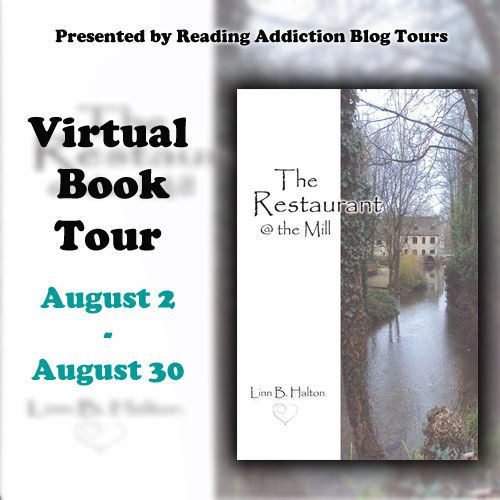 Ladies and Gents! I would like to welcome Linn B. Halton to my blog today!! I had the joy of being selected to be on her tour and read her book! In today's post, you'll get to hear about Linn, her book, and get a chance to win her book!
Linn B Halton lives in the UK, in the small Gloucestershire village of Arlingham, on
t
he banks of the River Severn with her adorable husband and cat with attitude – Mr
Tiggs! She writes romantic fiction with a psychic or astrological theme and many of the
paranormal events that feature in her books are real life experiences.
Linn is also a featured new Author on http://loveahappyending.com/ and Editor of the
feature 'Author & Associate Catch-Ups' including 'Reader/Author Team Reports' on the
website's magazine-style blog. (MAKE SURE TO CHECK HER OUT HERE!)
Contemporary Romance/Women's Fiction
Date to be Published: 8/2/12
Publisher:

Sapphire Publishing
to show to the world at large, what do we have in common? The things we bury deep inside; the
worries and fears we are unable to verbalise, and the hand fate takes in our lives is a common
thread. Sometimes we fail to recognise in each other that innermost struggle on the path to true
Six very different stories, six couples linked by The Restaurant @ The Mill, owned by Hilary
Marks and Ben Adams. As the restaurant thrives the atmosphere is alive with conversation,
snapshots of lives unfolding; each one a personal journey.
My review: The reason why I loved this book was there were six different stories going on that at some point intertwined. I have always been primarily a YA reader that some times tables in the older stuff. I was really happy I signed up for this tour. It was an easy read that I finished in a few sittings. If you are a dabbler like me, this is for you.
Hillary was my favorite our of the women that I met. I liked her progression throughout her story. I felt she kind of started off too submissive to Ben. I also wasn't a big fan of Ben, but I think that the difference between YA and Women fiction. The men are different, not bad, but different. I also thought that Ben and Hillary's relationship was realistic.
Thomas was someone who I found to be - not the sure of the word - curious - and I mean I was curious about him. His story is told from his perspective and he starts out with being "girlfriend free" and why he hasn't married yet. I'm someone who really enjoys different point of views and Thomas was def. that.
The first time I walked around the flour mill at Huntingbridge in Gloucestershire turned out to be a life-changing moment.

Reminiscent of the first time I met my business partner, Ben Adams.

The initial thought that struck me on both occasions was "Great, not perfect, but I can work with this." It was enough to clinch the deal for me.
You see, I thought I had a "perfect" life once a long time ago. I married Josh, the man of my dreams, only to find out one failed marriage and a broken heart later, that everything can change in an instant.

What you see depends upon where you're standing when you admire it.

If you're on the outside looking in on someone else's life, it's only natural to form an opinion based on the façade you see.

What I would eventually discover was that even when you're on the inside looking out, it's easy to be fooled into thinking everything is fine. On that fateful day many years ago, what I hadn't appreciated was that what we had was in fact a love triangle, and knowing that would have given me a whole new perspective.
a Rafflecopter giveaway